IPX3 & IPX4 Spray Nozzle
1. Introduction

Water spray nozzle is strictly designed according to the requirements of IPX3 and IPX4 code of GB4208 and IEC60529 standard. It's used to test the waterproof performance of the appliance and electronics.
The main difference of the IPX3 and IPX4 handheld spray nozzle is that IPX4 needs to take off the balancing shield of the spray nozzle in order to make the enclosure splashed water in every possible direction.
IPX3 Water Spray Nozzle: the counterbalanced shield is placed in IPX3 testing, the water flow rate is 10L/min, the water pressure should be in the range of 50kPa to 150kPa, the test time is 1min/m2 and at least 5 min.
IPX4 Water Spray Nozzle: e counterbalanced shield is removed from the spray nozzle, he water flow rate is 10L/min, the water pressure should be in the range of 50kPa to 150kPa, the test time is 1min/m2 and at least 5 min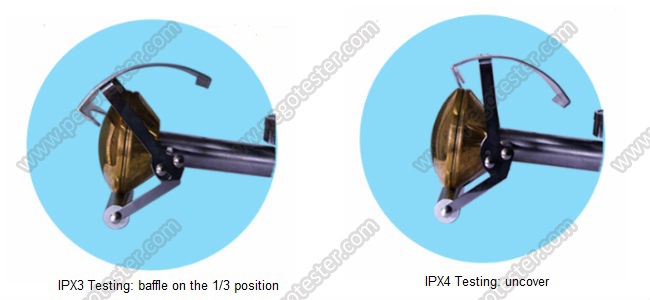 2. Parameter

| | |
| --- | --- |
| Nozzle Diameter | 102mm |
| Sphere Diameter | 75.5mm |
| Hole No. | 121pcs |
| Hole Diameter | 0.5mm |
| Counterbalanced shield material | aluminium |
| Nozzle Material | Brass |
| Water Discharge | 10L/min±5%, adjustable |
| Pressure Gauge Range | 0~0.4Mpa |
| Pressure Gauge | 0~0.25Mpa |
| Flapper | Detachable |