The dielectric strength test instrument is an auxiliary equipment for testing the dielectric strength of insulating material. The two standards IEC60065:2014 and UL1310:2017 have referred this equipment, but have difference on the details. In standard IEC60065:2014, there are detailed drawings as below, but there are no specific regulations on the material of the electrode, in the standard UL1310:2017, the size and material of the electrode are described in detail, but no drawings are given.
In IEC60065:2014: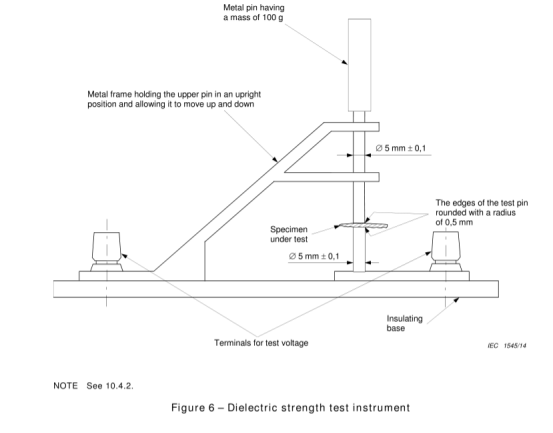 In UL1310:2017:

But in practice, we usually make two standard requirements into one device, the equipment will includes 2 electrodes, the electrode has diameter 5mm±0.1mm and weight of 100g±1g is conform to IEC60065 standard, and the other electrode has diameter 6.4mm±0.1mm and weight of 50g±1g is conform to UL1310 standard. The electrodes are normally made of stainless steel. In UL1310, it mentions that the electrode also can made of brass, but compared with stainless steel, the brass will oxidize after long-term use and cause poor contact.
Below is the difference between the standards IEC60065 and UL1310, and also it is the parameters of dielectric strength test instrument made by PEGO, please contact the sales to get the formal quotation.
Standards

IEC60065

UL1310

Mass of the moveable electrode

100g±1g

50g±1g

Diameter of metal pin

Φ5mm±0.1mm

Φ6.4mm±0.1mm

Diameter of support pin

Φ5mm±0.1mm

Φ6.4mm±0.1mm

edges rounded radius

0.5mm

0.8mm

Material of metal pin and support pin

Stainless steel/brass