IP waterproof testing machine is an instrument for testing the waterproof performance of electronic components, auto parts, outdoor lamps, cameras, drones, underwater sensors and other products to ensure the good working performance and technical status of the products and components.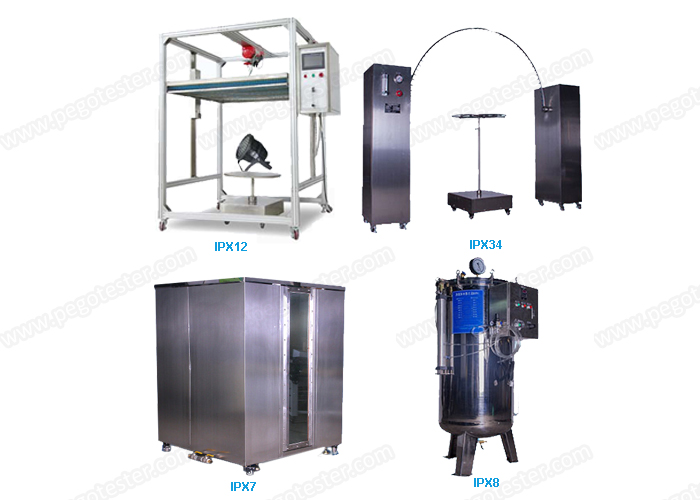 Pego has a lot of IP waterproof test equipment, like IPX1-2 drip box, IPX3-4 oscillating tube, IPX5-6 jet hose nozzles, IPX7 temporary immersion tank, IPX8 high pressure immersion tank, and IPX9K high temperature and high pressure jet spray test chamber and some comprehensive rain chamber like IPX3-6 rain test chamber, IPX69K high temperature high pressure jetproof test chamber, so how do you choose the right IP waterproof test equipment from Pego?
1. Determine the waterproof level of the EUT and then select IP waterproof testing equipment according to the waterproof level. According to IEC60529 standard, the IP waterproof grades are generally divided into nine grades, namely IPX1-IPX9K. The correspinding grades of Pego's waterproof equipment are as follows:
2. Determine the sample category, such as cameras, which are generally tested by IPX56 waterproof, diving cameras are for IPX8 waterproof, outdoor lamps are generally for IPX56 waterproof, lawn lamps arefor IPX7 waterproof, auto parts are for IPX9K waterproof, etc.
3. Determine the installation conditions of the site. For the same ip grades, Pego provides open type and box-type waterproof equipment for customers to choose from. Their shapes and installation conditions are different, so it is necessary to plan the placement of the waterproof test equipment in advance. For example, the open type waterproof test equipment needs to be used outdoors, or if need to used indoors, then should ensure the ground is level, the drainage is unobstructed, the ground and walls are waterproofed and the floor drain or drainage ditch is set; the box type waterproof test equipment is suitable for use in any place indoors, as long as the water source, power supply and gas source are all available.