The client Polyplastic B.V. from Netherlands order 1set IPX34 spray nozzle and 1 set IPX56 Jet Nozzle from our company Pego on Jan. 2021. After receiving the nozzles, they're very satisfied with our fast action service and the quality of nozzles. This is really a nice cooperation between us and we expect the future cooperation.
The spray nozzle hand-held device is designed according to IEC60529 figure 5, it is it is apply to verify the protection against spraying water (IPX3) and splashing water (IPX4) for large size sample. The hand-held device is consisted by spray nozzle, moving shield, counterweight, hose and pressure gauge. The spray nozzle is made of brass and has 121 holes with diameter 0.5mm (1 hole at center, 1 inner circles of 12 holes at 300 pitch, 4 outer circles of 24 holes at 150pitch). The moving shield is made of aluminum, the counterbalanced shield is in place for IPX3 test, the water pressure is adjusted to give the specified delivery rate, the pressure to achieve this delivery rate will be in the range of 50kPa to 150kPa, and it should be kept constant during the test, the test duration is 1min/m2 of the calculated surface of the enclosure and with a minimum duration of 5 min. For IPX4 test, the counterbalanced shield is removed from the spray nozzle and the enclosure is sprayed from all practicable directions, the rate of water flow and the spraying time per unit area are same as IPX3 test.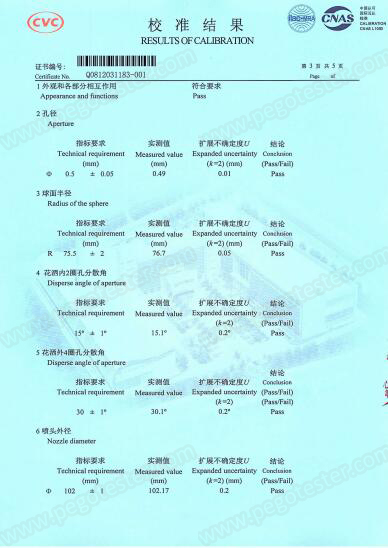 Jet nozzles are strictly designed according to IEC60529 figure 6 to verify protection against water jet. Test nozzle with inner diameter Φ6.3mm is for IPX5 test, and test nozzle with inner diameter Φ12.5mm is for IPX5 test. The hose nozzles are made of SUS304 stainless steel and it is consisted by 2 nozzles ( Φ6.3mm and Φ12.5mm), pressure gauge and valve.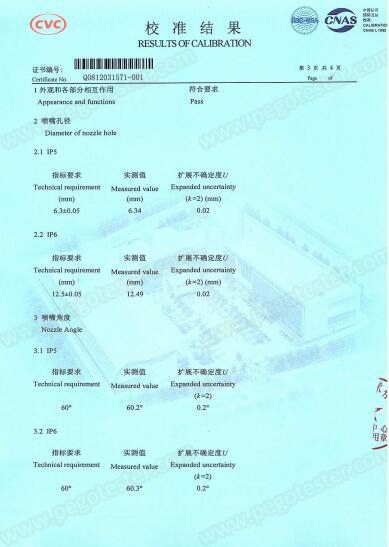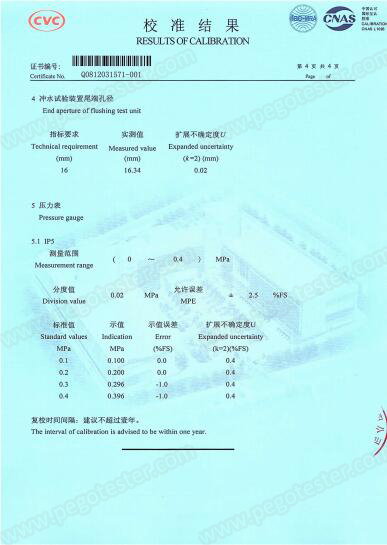 Both the IPX34 spray nozzle and IPX56 jet nozzle can pass the calibration from third-lab authorized by ISO17025. If you're interested in it, please contact us.